Automotive Dealerships provide a unique opportunity to find design opportunities within a complex program of many functions within a uniquely identifiable brand
INFINITI OF LEXINGTON
This new design concept was one of the first in the country for the luxury automobile brand. Constructed on the urban infill site of the old Contintental Inn, this state of the art facility infused new life and extended Lexington's automotive corridor on New Circle Road.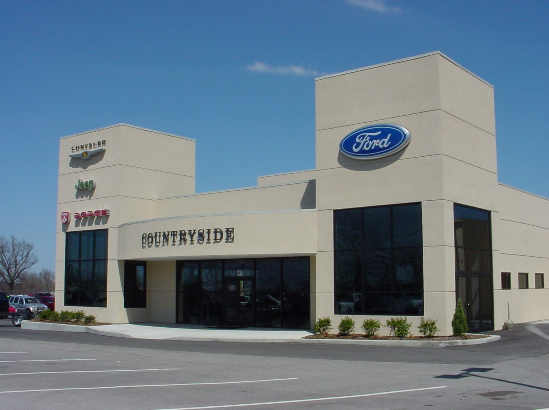 COUNTRYSIDE MOTORS
Countryside Motors was a design to develop a new showroom and sales center addition to Jimmy Morgan's Ford, Chrysler, Jeep and Dodge dealership in Lancaster, Kentucky. The design required two facades and corner towers upon which brand identities were located.
BOB ALLEN CADILLAC GMC
With the need to conform to the standards of both Cadillac and GMC, this new showroom and service reception building was an addition to an existing service workshop.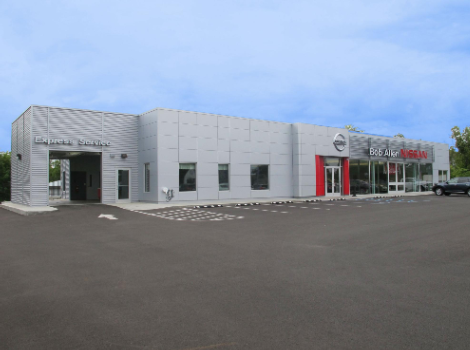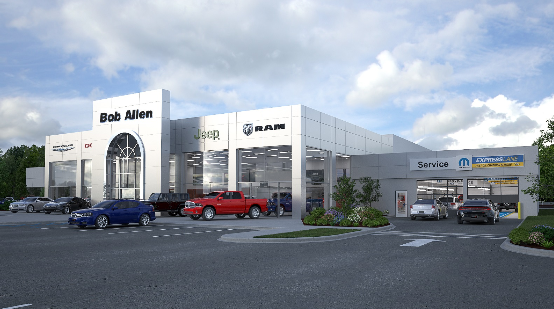 INFINITI OF NORTHERN KENTUCKY
This was our second evolution of the new Infiniti "sail" concept, which is currently under construction in Fort Wright, Kentucky. Located along the I75/71 corridor, this new 24,000 SF facility features a 55 foot tall display tower fronting the interstate. When completed, three vehicles will stack in a 180 degree display that features a lighting package with unlimited color possibilities. The facility also has a helipad, for use by the most discerning customers of luxury automobiles.
BOB ALLEN NISSAN RENOVATION
This existing facility was originally built as a pre-engineered metal building designed as a convenience store. In 2012, we were tasked with bringing the building up to the latest standards from Nissan's prototypical design division.
BOB ALLEN CHRYSLER SHOWROOM
As an addition to an existing facility, this new showroom and sales center will bring the dealership up to the latest standards in the "Main Street" prototype concept as mandated for dealers by FCA.
TOYOTA OF ASHLAND
Coming in June of 2019, the new Toyota of Ashland will be a state of the art facility.
BOB ALLEN CADILLAC/CHEVROLET SHOWROOM ADDITION
With the aquisition of Chevrolet/Buick to the Bob Allen lineup, a new showrrom was needed for the Cadiallac and Chevrolet brands. The result was an addition to the 2014 project, complementing the Buick/GMC design.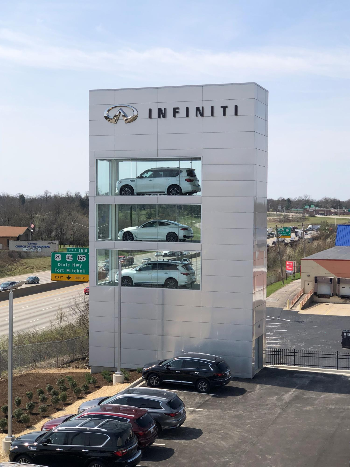 INFINITI TOWER
Over the years, we have had the great opportunity to design projects of landmark status, but the Infninti Tower at Infiniti of Northern Kentucky, is set apart as it towers over I75/71 in Fort Wright, Kentucky. The technical aspects of this design presented their own set of challenges. The strutural design was developed by our engineer here in Kentucky, and the lift system was designed by engineers in Canda. The lift was then manufactured in China and installed in Febraury of 2019. To be an efficient design, the lift stucture was developed in concert with the tower structure in what we called a "hand in glove" approach, so there was no repitition of systems. The result has been a great success for Infiniti of Northern Kentucky. At night, the towere intenally illuminates the vehicles on display with an LED lighting system with over 16 million color combinations.